CANADA SOCCER HOSTS VIRTUAL ANNUAL MEETING OF THE MEMBERS
November 23, 2020
Canada Soccer hosted a virtual Annual Meeting of the Members on 21 November after postponing its planned May 2020 event in Winnipeg, MB due to restrictions related to COVID-19. As part of the proceedings, Canada Soccer Members elected Dr. Nick Bontis as the 35th Canada Soccer President. Canada Soccer also rolled out its Foundation For the Future Annual Report 2019 celebrating more than a decade of success as the organization gets set to host the FIFA World Cup 2026™.
Board of Directors elections also saw former CCAA Coach and Centennial College Instructor Paul Martin as Director, Ontario. The President will serve a four-year term, while Directors will each serve three-year terms.
In addition, Canadian Premier League club Atletico Ottawa was formally admitted into membership as the league's eighth club and Canada Soccer's 11th Professional Club Member.
Dr. Nick Bontis elected new Canada Soccer President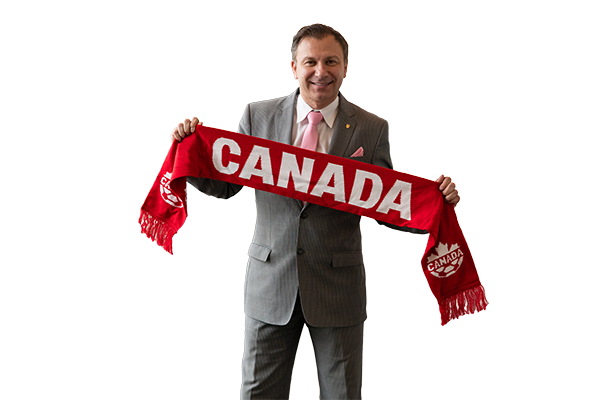 Dr. Bontis was appointed as Canada Soccer Vice-President in 2017 when outgoing President Steven Reed was elected to serve the remaining three years of Concacaf President Victor Montagliani's term. He was elected as Vice-President in 2018 in Yellowknife, NWT.
Dr. Bontis' soccer career spans over 45 years starting as a youth player in Scarborough, ON. He went on to compete at five National Championships and earned provincial and national all-star recognition at the USports level at the University of Western Ontario. He is a nationally licensed coach and recent inductee into the Western Mustangs Sports Hall of Fame.
A Canada Soccer Director since 2012, Dr. Bontis has led two cycles of Canada Soccer's Strategic Planning process, developing the Leading Soccer Nation 2014-2018 and Canada Soccer Nation 2019-2021 documents as the Chair of the Strategic Planning Committee.
An internationally renowned public speaker, Bontis is a tenured professor at McMaster University where he serves as the Chair, Strategic Management at the DeGroote School of Business. He holds a Ph.D. in Business Administration from Ivey Business School at Western University.
Paul Martin elected new Director, Ontario for Canada Soccer
Paul Martin, like Dr. Bontis' soccer career spans over 40 plus years starting as a youth player in Scarborough, ON. It has seen stops as a player at the University of Windsor as a former team captain, a player in the in the old National Soccer League and the Canadian Professional Soccer League. He has also been an active member of the Scarborough Referees Association for over 35 years.
Mr. Martin a former CCAA coach in the OCAA with most recently Seneca College and Centennial College. Currently, he is an instructor at Centennial College with the Global Citizenship and Equity program. He is a creative and management professional who is currently holds a Canada Soccer A Licence, as well as a long-time coach and learning facilitator with Ontario Soccer. He is the currently a Head Coach at Canada Soccer National Youth Club Licence holder Pickering Football Club's OPDL men's program.
Mr. Martin is also the founding President and Chair of Black Coaches Canada.
From the files of Canada Soccer.