What is Sarriball?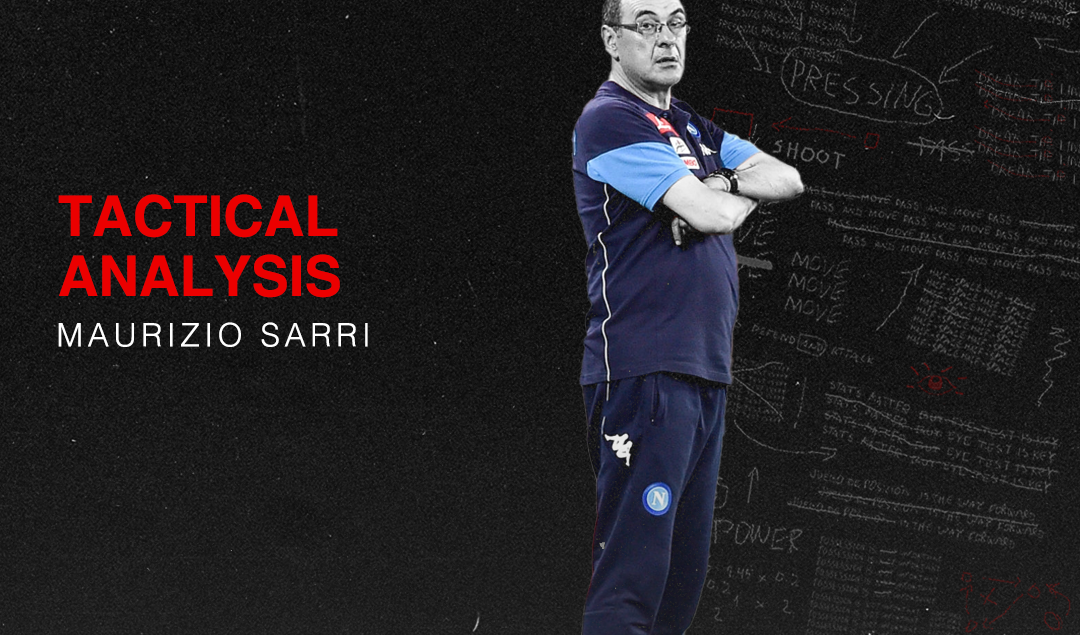 The following segment of this article is from Breaking The Lines https://breakingthelines.com/tactical-analysis/what-is-sarriball/ on December 3, 2020 by @DBAFootball.
December 3, 2020
What is Sarriball?
Out of all the managers in European football, few have had a more improbable, unexpected rise to the top than Maurizio Sarri. He never played at the professional level, he split his time between working as a banker and playing and managing an amateur side, but in 1999, he quit his day job and dedicated himself fully to coaching. Sarri worked his way up the Italian pyramid before getting his first big break at 56 years of age, replacing Rafa Benítez as Napoli manager.
It was there at Napoli — the city of his birth — where Sarri became a ubiquitous name amongst football fans. From 2015 to 2018, Sarri's Napoli became widely recognized for its unique style of play predicated upon verticality in possession, high-tempo passing, and circuit-based football. His team typically utilised third-man runs to either draw defenders out of position, provide a clear option for progression, or break through the opposition's defensive block.
Whilst his subsequent spells at Chelsea and Juventus have proved to be far less fruitful, it's only a matter of time before he gets his next opportunity at the top level. Let's take a look at the core principles that have underpinned Sarri's style of play and the common characteristics that comprise 'Sarriball.'
Verticality in moving through the thirds
One of the core ideas that dictate how Sarri likes his teams to play is verticality: moving the ball "up and down" the pitch. In order to play with the necessary levels of verticality, Sarri employed a 4-3-3, which created diamonds and triangles across the pitch that could easily be manufactured and worked on in training. By having as many of these shapes as possible, one can increase the chance of having a spare man on a different line to progress the ball towards.
This does not, however, limit Sarriball to just short or even medium length passes. When the opportunity comes about by moving the opposition into wider spaces through press baiting (drawing the opposition out using short passes deeper in the pitch), the goalkeeper would play a long ball through the middle of the pitch into one of the attacking players sitting between the lines that had been moved around, allowing for swift vertical progression from which they could advance towards the goal.
This is also why Sarri prefers to have goalkeepers who are very confident with the ball at their feet. Kepa Arrizabalaga, who Sarri bought for a club record fee of £72 million at Chelsea, ranked in the 100th percentile for launched pass competition rate under Sarri. On the other hand, Pepe Reina, who started in goal for Sarri between 2015 to 2018, ranks in the 90th percentile in the same metric since the 2018/19 season. Whilst neither are particularly proficient at shot-stopping, both had the technical ability to execute the first phase of build-up.
Let's look at this in practise. Against Real Madrid in the Champions League Round of 16, Sarri's Napoli scored their first goal using a similar idea. The four defenders circulate the ball against Real Madrid in order to draw the Real players towards them. Once the Real players start to press, Kalidou Koulibaly at left-centre back plays a vertical pass to Dries Mertens (who operated as a false nine) who drops deep and between Real's defensive and midfield lines.
For the rest of the article by @DBAfootball, please go to https://breakingthelines.com/tactical-analysis/what-is-sarriball/.