Ilya Orlov and Martin Painter Named As Coaching Staff For The Open Men and Masters Soccer (Football) Teams In The 21st Maccabiah Games.
Two of USports and OUA coaches have been named as part of the leadership team for the 21st Maccabiah Games Team for open men's soccer.
Announced on April 20th, Head Coaches Terence Dunfield (TFC) and Ilya Orlov (University of Toronto) and Team Manager Martin Painter (University of Western Ontario), have outstanding careers coaching athletes at an elite level. They will bring their winning formulas to the Masters and Open Men's Soccer Teams in the hopes to sweep gold at the 2022 Maccabiah Games.
Terry Dunfield
The former Canadian International that represented Canada at both youth and senior international levels,
Dunfield as a professional player in the midfield played most of his professional career in England with a number of teams and joined Whitecaps FC for their inaugural Major League Soccer campaign. He then moved on to Toronto FC where he finished out his professional playing stint after being hobbled by a number of injuries over the years. Dunfield currently for the past 5 years has been part of Toronto FC's academy as the U-15 Academy Head Coach, and as an analyst for everything soccer currently on OneSoccer, Sportnet and formerly TSN. A well accomplished and seasoned coach he brings the understanding and analysis to the team that will allow the players to lean on him for the international experience and what to expect in different situations at the international football.
Ilya Orlov
Orlov, the University of Toronto Varsity Blues bench boss and head coach at League 1 Ontario side Alliance FC was promoted to the top job in 2019 after several years as an assistant for the previous four seasons. During that time, he helped the Blues to two OUA bronze-medal finishes and two national championship berths.
He isn't far removed from his playing days, either, with two Ontario university first-team all-star appearances, a OUA gold-medal and a national championship with York University coming earlier in the last decade.
From December 2015 to October 2017, Orlov was the League1 assistant coach and under 21 head coach for the North Toronto Soccer Club and is currently the head coach of the Alliance United Football Club in League1.
 
He was the youth performance centre coach with FC Union Berlin in Germany in 2017 and attended international internships with Fulham FC in London and Korono Kielce in Poland in 2016, as well as Feyenoord Rotterdam in Holland in 2015 and KUPS FC in Finland in 2014.
 
Martin Painter
As a successful coach, Painter, understands how to build a competitive winning program. Painter has been the Head Coach for the Western Mustangs Women's Soccer team since January of 2012. Since then, Painter has led the Mustangs to 8 consecutive playoff appearances, 6 OUA Final Four appearances, including OUA silver medals in 2013, 2014, 2017 and 2018 as well as a bronze in 2016. In that time, the Mustangs have made 4 appearances at USPORTS National Championships and have won the OUA West Division 4 times. Painter was named OUA West Coach of the Year in 2013 and 2017 and 2013 also saw Painter win the CIS (now U SPORTS) Coach of the Year. 
Since 2018, Painter has also been the Head Coach of the Western Mustangs Men's team, claiming an OUA Bronze Medal in 2018 in Western's 1st appearance in the Final Four since 2010.
Prior to his time at Western, he spent 5 seasons as head coach of the Fanshawe College Women's Soccer program from 2007-11. In 2009, Painter led Fanshawe to an Ontario Colleges Athletic Association (OCAA) title and a runner-up finish at the Canadian Collegiate Athletic Association (CCAA) Championship. Painter's success on the pitch carried over to his tenure at the helm of FC London, where he coached for seven seasons (2009-2015) in the Premier Development League (PDL), winning a North American championship in 2012.
Painter is also a scout for Toronto FC and the Technical Director of Alliance FC in London.
The 21st Maccabiah Games is scheduled to take place in Israel from July 12 to 26, 2022.
About the Maccabiah Games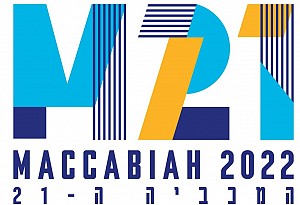 The Maccabiah Games, a prominent international sports competition, often referred to as the "Jewish Olympics" are organized by Maccabi World Union every four years and have become the largest regularly held international event in Israel.
In July 2017 the Maccabiah hosted 10,000 athletes representing 80 countries, making it the third largest event in the world, behind only the Summer Olympics and the World University Games.  Maccabi Canada was responsible for sending a delegation of 600 proud Canadians, one of the largest delegations from any Diaspora country.  Canadian athletes won 72 medals at the Games, including 15 Golds.
Sources:
https://www.maccabicanada.com/about-us/history-and-milestones
https://www.maccabicanada.com/news
https://www.whitecapsfc.com/players/terry-dunfield/