Addressing Conflict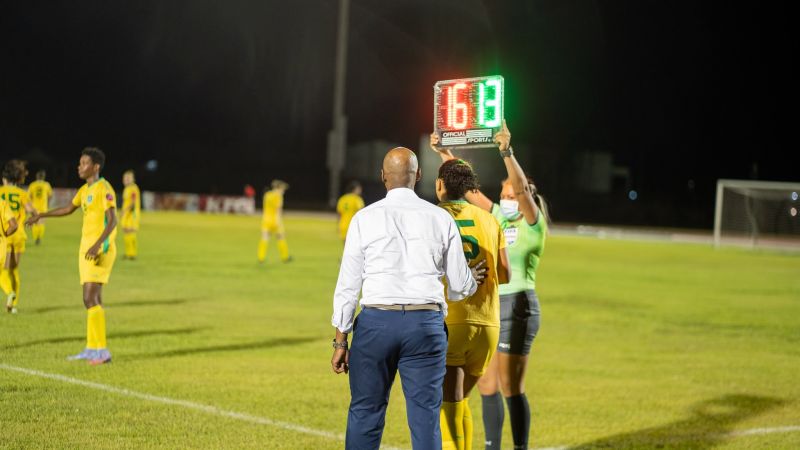 The following article from April 13, 2022 is the second in a series of three from Dr. Ivan Joseph the Vice President of Student Affairs at Wilfred Laurier University, Championship winning coach, former Men's Head Coach and Athletic Director of Ryerson University and current head Coach of the Guyanese Women's Senior National team. The award winning coach and author shares his lessons from his current journey.
TONIGHT, I'M COACHING ONE OF THE BIGGEST GAMES OF MY SOCCER CAREER. I'm getting ready to coach Guyana's Women's National Team against Trinidad & Tobago where only the winner advances to the World Cup Final Round Qualifier. Thirty teams are in this round and only six move on to the finals where Canada and the US are waiting for us. We're definitely underdogs.
For the past ten days, we've been in camp training. You might imagine our focus on technical and tactical skills. You might also be surprised to hear that the real work is spent on building cohesion. Making sure players feel like they matter and belong is a constant principle for high performing teams.
I spend a lot of time building cohesion and helping players address conflict that undermines it. Left unaddressed, conflict becomes a distraction at best. At worst, it's an internal bomb waiting to derail the team from its' goals.
My cohesion work is informed by psychologist Bruce Tuckman's (1965) five stage model of group progression to high performance: Forming, Storming, Norming, Performing & Adjourning.
For me the most critical is the Storming Stage–where those little things start to bother you. Johnny never replaces the paper in the printer. Sally asks too many questions in meetings. Some begin to doubt the ability of the team to achieve its goals. Others want to avoid conflict and pretend everything is okay. It's critically important that you address conflict here. Otherwise factions can develop or the group may take on a culture of passive aggression.
I just spent a week managing the relationship between a young superstar and a group of veterans trying to get each of them to know how to bring out the best in each other. It was stormy.
HERE'S MY FORMULA FOR ADDRESSING CONFLICT:
#1 You gotta have that crucial conversation with each individual involved in the conflict to check for clarity and interpret the situation.
#2 Communicate the conflict in a way that the person hearing it is willing to see it and identify it as an obstacle in helping them achieve their goals.
#3 Communicate it in a way that moves them towards a level of accountability in the role they play without shaming or blaming in how we got to the conflict. Sometimes the leader shoulders part of that accountability.
#4 Produce a plan that is collaboratively created, mutually agreed upon, and addresses the conflict where everyone feels like they've won. Leaders have to be willing to find concessions or adjust in order to get everyone on board.
What I want you to hear in all of this is: just because you have conflict in your team, it doesn't mean you have an underperforming team or that you are doing a poor job as a leader. Conflict is a necessary part of a high performing organization. It's a leader's failure to address it that will limit your ability to be a high performing organization. #highperformance#leadership#conflictmanagementSpeakers'​ Spotlight
About Dr. Ivan Joseph:
Dr. Joseph is the Vice-President, Student Affairs at Wilfrid Laurier University where his role encompasses a wide range of responsibilities including enriching the student experience, strategic planning, fundraising, marketing, and development of sports facilities. Dr Joseph served in similar capacity as Vice Provost, Student Affairs at Dalhousie University before choosing to return home to be closer to family.
Prior to that, he was Director of Athletics at Ryerson University where he was lauded for leading the Ryerson Rams to first-time national championship twice and first-time provincial championship several times. He is also recognized for spearheading the transformation of the historic Maple Leaf Gardens into a multi-functional athletic and recreational centre for Ryerson University. The Mattamy Athletic Centre was recently identified as one of the top 10 historic stadiums in North America alongside the Coliseum, Madison Square Gardens and Churchill Downs.
Dr. Ivan Joseph is also a keynote speaker, award-winning performance coach, author and recognized educator and mentor. His TED talk on self-confidence – with over 20 million views to date – has been selected by Forbes magazine as of the 10 Best TED Talks for Graduates about the Meaning of Life. Dr. Joseph is author of You Got This: Mastering The Skill of Self-Confidence. The book made Amazon's Top 10 Most Gifted Books in Business Mentoring & Coaching category in 2018.
As co-founder of Ivan Joseph Leadership, Inc., Dr. Joseph travels extensively around the world to speak to organizations and teams about the power of self-confidence in leadership, career, sports and life, how to build cohesive teams that exceed expectations and harnessing the power of diversity to fuel high performance teams.
Dr. Joseph has a Ph.D. in sports psychology from Capella University.
Follow Dr. Joseph on Instagram and Twitter @DrIvanJoseph.