An New era Ushered In Halifax With Patrice Gheisar
So it's time for a new era in Halifax with the HFX Wanderers.
After the parting of ways between the Wanderers and Stephen Hart, Sporting Director Matt Fegan had stated that their timeline was to have a new head coach in place by the end of November and he has delivered as promised.
Enter new HFX Wanderers' Head Coach Patrice Gheisar, Coach Gheisar will be brining his style and culture building ways to the Wanderers, (along with some of his players), hoping to duplicate his previous successes with the Vaughan Azzurri in League 1 Ontario and Seneca College in the OCAA.
"I was ecstatic when I got the news; words can't express it. I am just looking forward to getting started," Gheisar said. "Halifax fits all the things I wanted, I loved the city when I came here, and it has the best fans in the league; it's the opportunity of a lifetime."
Gheisar joins the Wanderers after a storied career at Vaughan Azzurri in League1 Ontario. In 2022 he was named the league's coach of the year after leading his team to an undefeated season and league championship. As a full-time head coach in League1 Ontario, Gheisar holds a record of 41 wins, two losses and five draws between the regular season and playoffs. Over that time, Vaughan scored 173 goals and conceded just 59 times for a +114 goal differential.
"My focus from day one has been to find a winner, a builder and a communicator, and throughout this extensive process, Patrice proved to be the best option for all three," Wanderers Founder & President Derek Martin said. "Our ambition is to be perennial winners on and off the pitch, and I believe Patrice has the drive, passion, experience and relationships to get us there!"
The Wanderers get in Gheisar a proven winner, with a keen eye for developing and identifying talent, getting it to work for the common goal of winning, and a tactician that sees adversity as part of the game. In Halifax, Gheisar comes into a situation where he can use his influence that he has with some of the elite ammature players in the country coming out of the CCAA, USPORTS and the NCAA that can enhance the nucleus of the Wanderers' talent pool and draw players to the eastern most outpost in the CanPL. Gheisar has either coached against these players, or they have played for him and won. Players such as Alistair Johnston, Kamal Miller and Dayne St. Clair from the Canadian Men's Senior National team, along with over two dozen either current or former Canadian Premier League players.
Gheisar admits he feels a little pressure stepping into this job to represent L1O well at the CPL level. Gheisar isn't the first gaffer in this league to coach at that level – that distinction would be Forge's Bobby Smyrniotis, who helmed Sigma FC for years before the CPL began – but he would be the first to work his way up the pyramid from League1 since the top-flight league kicked off.
"This is a great move for every coach that believes they're never gonna get a pro job," Gheisar said. "I felt the same way, so I feel like this is the story of the underdog. I feel like Halifax is an underdog city too, right? So let's just keep moving and I'll be representing all my colleagues that are at League1, OCAA, OUA that deserve a shot like this. There's a lot of good coaches, as there's a lot of good players."
Gheisar was ultimately selected for the job after an extensive search process which attracted many strong applicants. After making an initial shortlist of candidates, Gheisar impressed the club enough for them to pick him as the man to lead the Wanderers as their head coach.
According to Wanderers sporting director Matt Fegan, Gheisar was always a primary target for the club when they went about looking for a new head coach. The club was "inundated" with applicants for the job when it became available, and they considered a strong shortlist of candidates, inviting a handful to Halifax to interview in person with Fegan and club president Derek Martin.
Ultimately, though, Gheisar continued to stand out. The Wanderers felt his vision aligned well with their club and the culture in Halifax, and Fegan explained that he was convinced Gheisar could build a team to play entertaining football.
"Throughout his coaching career he's always gained a reputation for playing on the front foot, playing attacking football," Fegan told CanPL.ca. "He wants to win games in an exciting manner, not just sit back and hope to squeeze a 1-0 win.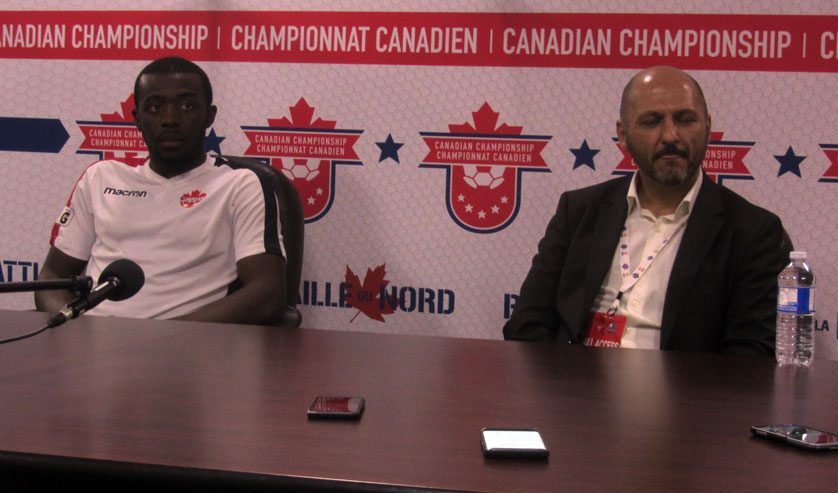 "I think that's something that will really resonate with the fans and keep the great atmosphere that we've already developed in Halifax going, and marching toward our efforts to build things like a permanent stadium and hopefully bring titles to Halifax as well."
"Now what we need to do is deliver consistent playoff football for Halifax," said Wanderers sporting director Matt Fegan. "We don't want to be watching the playoffs on the couch anymore, we want to be competing with the top teams in this league. We want to give the fans an opportunity to celebrate those successes as well with us."
Fegan added: "I think now we have an opportunity, with Patrice's vision of the game, to make sure we support him with the right players that fit that model."
So, here is something to consider, not only is the CanPL about elevating Canadian players, but we are now seeing another coach out of the Canadian post-secondary coaching ranks rise into the CanPL and through the League 1 Canada system. This can only good new for our game. The Cam Isacco's, Kwesi Loney's and now Patrice Gheisar's are blazing the way for the elevation of the home grown part of the game.
Sources: https://canpl.ca/article/excitement-beyond-imagination-former-l1o-tactician-gheisar-thrilled-to-take-on-new-challenge-as-wanderers-coach
Patrice Gheisar named Halifax Wanderers head coach
https://hfxwanderersfc.canpl.ca/article/wanderers-q-and-a-with-sporting-director-matt-fegan
http://www.rocketrobinsoccerintoronto.com/reports19/19l1o041.htm