Helmut Groß, Controlled Chaos and the Stuttgart School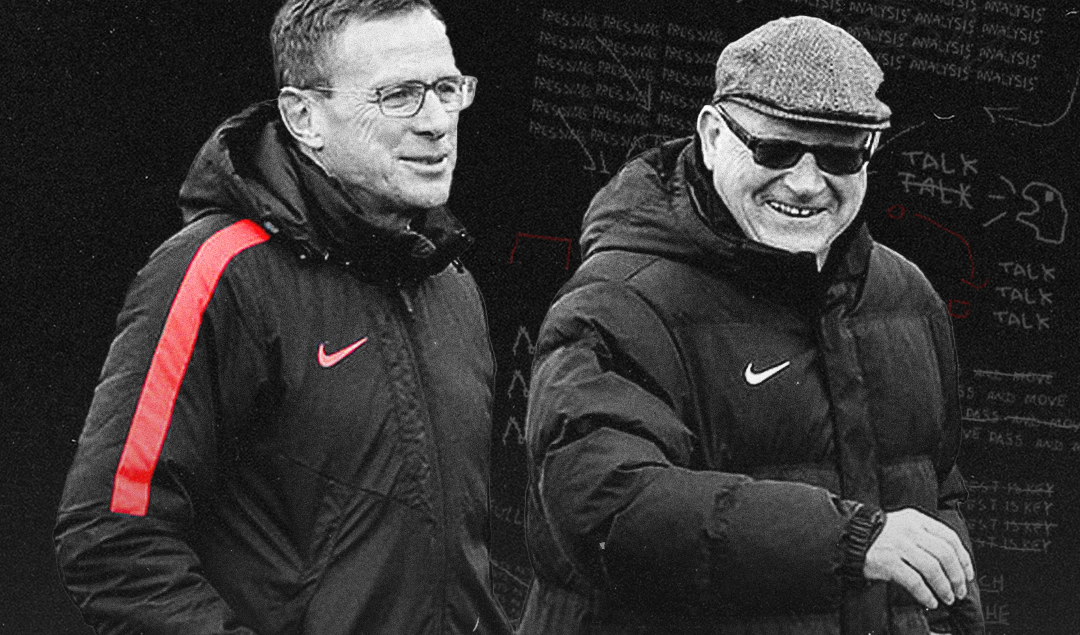 The following article by Karan Tejwani can be found at Breaking The Lines, https://breakingthelines.com/historical/helmut-gros-controlled-chaos-and-the-stuttgart-school/ and talks about the influence of Ralf Rangnick and Helmut Groß, developing a back four and zonal marking strategies, that were to eventually revolutionize coaching and football in Germany.
Helmut Groß, Controlled Chaos and the Stuttgart School
The late 1990s and early 2000s saw a period of struggle for the German national team. After winning the European Championships in 1996, the World Cup two years after that saw them fall in the quarter-finals, losing to debutants Croatia in France. The 3-0 embarrassment led to calls for change, but it didn't arrive in time. Two years later, one point from three games meant that Germany finished bottom of their group at Euro 2000.
At the next World Cup, Die Mannschaft went all the way to the final, but their run was hardly convincing. Inspired by Oliver Kahn and helped with a few favourable results going their way, they overcame the likes of Saudi Arabia, Paraguay, the United States of America and South Korea on their way to losing the final to a Ronaldo-inspired Brazil. And by 2004, they were put out of their misery: once again, the Germans finished bottom of their group at the Euros.
Just a decade later, they were world champions having deservedly reached at least the semi-finals of every major international tournament since their horror show in Portugal. That was a fair reward for the tactical revolutions occurring in German football in the national team's years of struggle. The biggest change was how more clubs and coaches opted to move away from the sweeper (or libero) system that had been so successful for Germany in the early '90s.
Coaches like Volker Finke at Freiburg and Wolfgang Frank at Mainz were employing a back four, and perhaps the most impressive of all was Ralf Rangnick at Ulm, who were in the third and second divisions of German football, before finding their way to the Bundesliga after Rangnick left. Backnang, the home of Rangnick, is a tiny town east of Stuttgart, and it was at that club where he and Helmut Groß, the man who he worked with on developing his back four and zonal marking strategies, were revolutionizing coaching and football in Germany.
Groß, despite not being a name that was mentioned too often when speaking about the changes that occurred in German football, is a crucial figure. He may not be very well known outside Germany, but that is perhaps unsurprising. He was never a top-level head coach; instead, he focused on academy sides and laying the foundations for the future. His work not only inspired players but created a generation of coaches that clubs across Europe have touted for years. It could be said that if it wasn't for Groß, Rangnick's career might have played out differently.
Born in Geislingen in 1946, Groß played football at an amateur level and worked with local club FV Faurndau and SC Geislingen. It was at the latter where he was able to implement his ideas best: in 1981 when he took over, he introduced ball-oriented spatial coverage, or ballorientierte Raumdeckung, becoming the first club in Germany to employ the strategy.
At the time, German football was obsessed with the sweeper system, while looking elsewhere and before his time in Europe coaches like Ernst Happel and Gyula Lóránt were focused on spatial coverage rather than traditional man-marking. These were people Groß was inspired by.
"I think those head coaches that are interesting are the ones that looked outside of Germany," Groß said to Jonathan Harding for his book, Mensch: Beyond the Cones about the need to look beyond his surroundings.

"In our time, we always learnt more from Arrigo Sacchi in Italy, Valeriy Lobanovskyi, and later the Spanish. And for a time, the French, who were European champions in 1984 with ball-oriented zonal marking."
When he took over at Geislingen, he wanted to create something similar to the Dutch game. He liked how they played but felt it wouldn't work in Germany unless it was tweaked. Based on Happel's teams, by covering the area of where the ball is, the players can save more energy by not running around senselessly.
However, Groß felt this method had a few flaws. He wanted his teams to convert that saved energy into aggressive pressing to keep their opponents under constant pressure. Happel did something similar with his Dutch national team, but Groß wanted more.
In 1987, Groß left Geislingen for fellow sixth-division team VfL Kirchheim. There, the club arranged a friendly against Lobanovskyi's Dynamo Kyiv and earned 1-1 draw, which is arguably the famous result in the club's history and something that mightily impressed the opposition manager as well – he was surprised to see a club playing a similar style to his own team, despite being so far down the German football ladder.
It was around this time that he developed a friendship with Rangnick as well, who, at 28 years old, joined the teaching staff of the Württemberg Football Association and was just as keen to learn about ball-oriented spatial coverage. Groß also ended his coaching career at the time and joined the FA, and the two would set out the philosophy for all the coaches working with them, making Württemberg the first football association in Germany to play with a back four, rather than a sweeper.
The two would work and learn together, aiming to gather resources from around Europe and paying a hefty price for video recording equipment as they wanted to pay close attention to Sacchi's all-conquering Milan teams in Italy. By 1989, Groß got a role at VfB Stuttgart as the youth coordinator and despite resistance from the club, he employed Rangnick as well because he felt he was the perfect man to deploy his philosophy. Groß's vision was to have a uniform playing style for all the club's youths and he was successful. 
For the remainder of the story, please go to https://breakingthelines.com/historical/helmut-gros-controlled-chaos-and-the-stuttgart-school/.