LAVAL'S DAVID DESLOGES NAMED USPORTS WOMEN'S COACH OF THE YEAR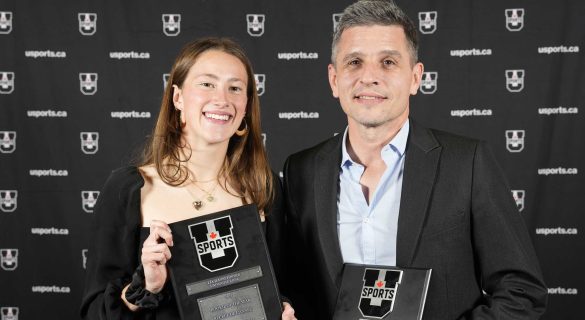 In his fourth year at the helm of the Rouge et Or, David Desloges led his squad to a sparkling record of 10 wins, one loss and three draws, good for second place in the RSEQ. Desloges' system has contributed to both the offensive and defensive exploits of his team, which scored 27 goals and allowed only eight in 14 games. Of note this year is that Laval managed to sweep their main rivals, the Montréal Carabins, in the regular season for the first time in nearly 20 years. Desloges is the second Laval coach to win the award, following the late Helder Duarte in 2002 and 2015. Desloges' award matches his CCAA Coach of the Year award from 2008.
Dalhousie's Cindy Tye, Dave McDowell of Queen's, and Mount Royal's Tino Fusco were the other nominees.
Sources: https://rougeetor.ulaval.ca/nouvelles/fortier-et-desloges-recrue-et-entraineur-de-lannee-au-pays/
https://usports.ca/en/sports/soccer/f/news/2022/11/84729205/wsoc-awards-20221109