UNBC'S STEVE SIMONSON NAMED USPORTS MEN'S COACH OF THE YEAR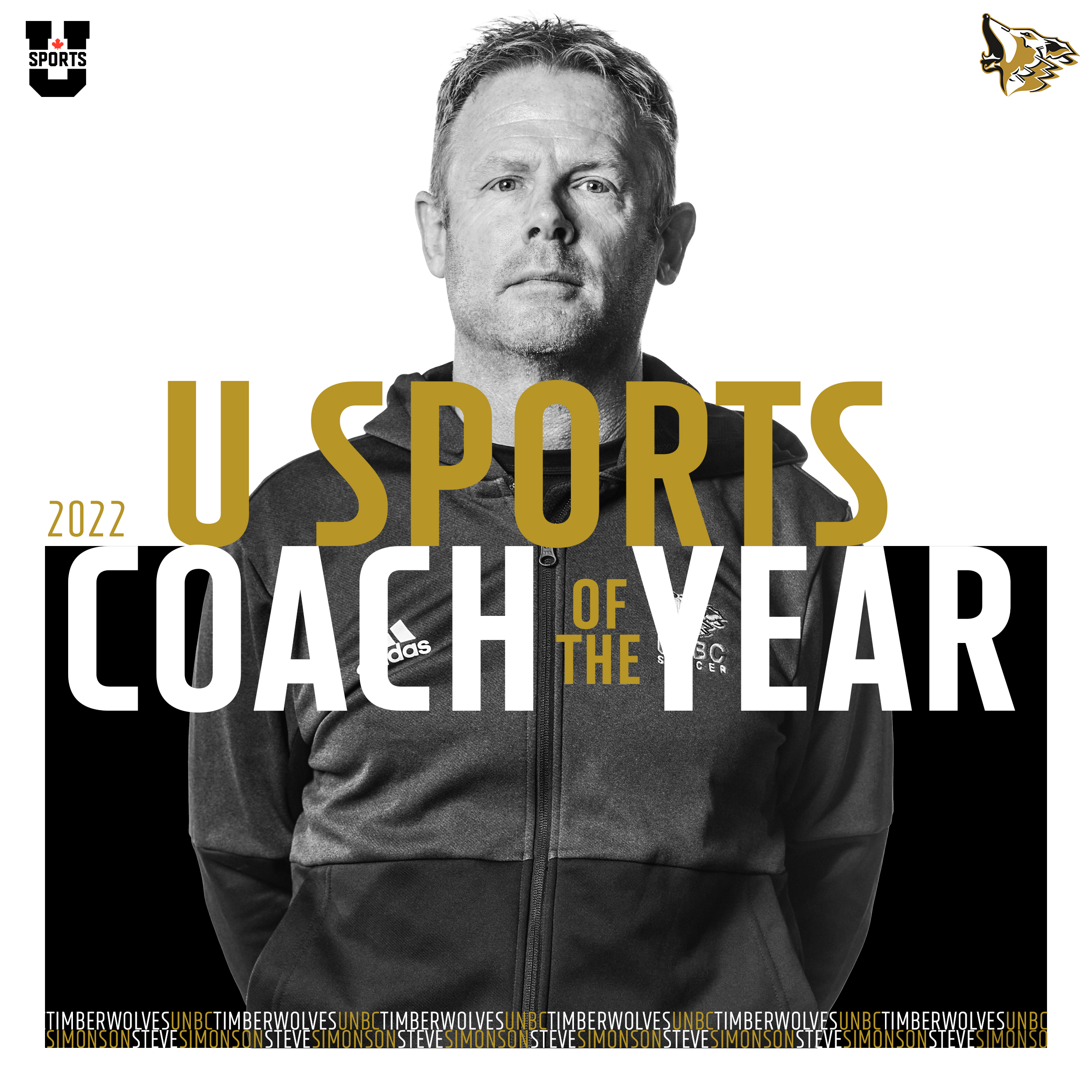 It was a historic season for UNBC Men's Soccer, and it is being rewarded in a historic way.
Steve Simonson has been named the 2022 Fox40 Coach of the Year as he helped transform a Timberwolves program into a serious contender. Simonson's team finished with an 8-5-3 record, good for third in the Canada West Pacific Division after recording just two wins a season ago. He guided the T-Wolves to a strong second half, as they went on an eight-game winning streak going into the conference playoffs. Simonson helped his team capture program records for wins, goals scored and points. He righted the ship despite a slew of injuries throughout the season, creating a culture of passion and determination for his squad.
"He has worked extremely hard establishing a team culture, creating an environment where the players are accountable, with a focus on them becoming better players, better students, and better people. He has stayed true to that with his efforts recruiting, coaching, and time spent on his professional and personal development. I am so proud of Steve," said Loralyn Murdoch, the UNBC athletic director. "It is special to be recognized by your colleagues from other institutions. His passions go beyond the win/loss column, and his team's success on and off the pitch are evidence of that passion and drive." Simonson became the first University of Northern British Columbia coach to be honored by the conference, earning 2022 Canada West Men's Soccer Coach of the Year earlier this month, and now has a national honor to go with the previous first for the school.
UNB's Barry Morrison, UQAM's Christopher Dutarte and Ontario Tech's Ramin Mohammadi were also nominated for the award.
Sources: https://www2.unbc.ca/timberwolves/news/steve-simonson-earns-2022-canada-west-coach-year
https://usports.ca/en/sports/soccer/m/news/2022/11/3885766392/msoc-awards-20221109
The heart of the @UNBCMSoccer program.

Now, recognized as the top coach in Canada.

Congratulations to @UNBC's very own Steve Simonson, who has been named the 2022 @USPORTSca Men's Soccer Coach of the Year! pic.twitter.com/7tZYFo5Qs2

— UNBC Athletics (@UNBCATHLETICS) November 10, 2022